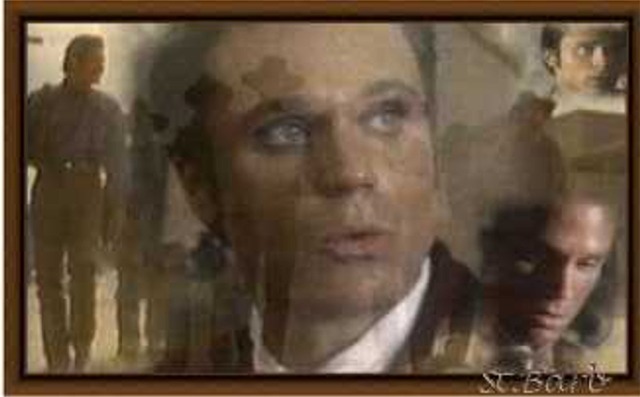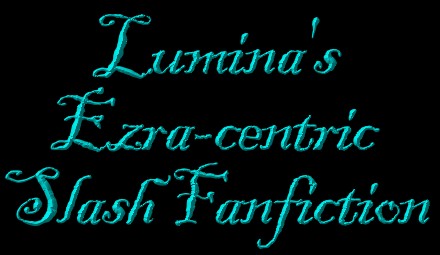 All of the stories here are written by myself and explore Ezra's relationships with the other six and his own place among the Seven. These stories are all slash, so please leave now if you prefer not to read homoerotic fiction.
Lumina~
DISCLAIMER: Nothing herein belongs to me-not the characters, settings, nothing, and no monetary rewards have been earned. These stories are meant only as entertainment and are not intended to infringe upon the copyrights held by MGM, Trilogy, Mirisch Co., CBS-TV, TNN, or any others.
WARNING: The following stories portray homoerotic relationships between men. If you prefer not to read this kind of material or you have not yet reached the age of majority in your part of the world, please leave now.

~ ~ ~ ~ ~ ~ ~ ~ ~

~ ~ ~ ~ ~ ~ ~ ~ ~

~ ~ ~ ~ ~ ~ ~ ~ ~
Virgin Territory


Ezra/Buck


Virgin Territory
Complete July 18, 2000.

Runner Up ~
Fanfiction NC-17.

Storm Set
Complete August 24, 2000.

Shadow Cast
WIP

Watershed

Ezra/Chris


Offering
A mirror ficlet to Yearning from Chris's POV
Complete September 5, 2000.

Yearning
A mirror ficlet to Offering from Ezra's POV
Complete September 14, 2000.

Watershed
Complete October 9. 2000.



~ ~ ~ ~ ~ ~ ~ ~ ~

~ ~ ~ ~ ~ ~ ~ ~ ~
Chimera Ezra/Buck

Complete March 2001.
Convergence Ezra/Vin

Complete September 19, 2001.
~ ~ ~ ~ ~ ~ ~ ~ ~

~ ~ ~ ~ ~ ~ ~ ~ ~
Shadow Cast ~ Ezra/Buck (Old West)
Ezra's past haunts his dreams and affects his relationship with Buck, as a series of killings terrorize Four Corners while coming ever closer to the two lovers.Follows Virgin Territory and Storm Set.

Lifeline ~ Ezra/Buck (ATF)
The lines between reality and undercover persona blur for Ezra during a prolonged assignment, as Buck becomes not just Ezra's only contact with the Team, but his touchstone leading back to his true self.

Nothing New Under the Sun: Reel Life ~ Ezra/Buck; Ezra/Chris (ATF)
Continuing on with the series, an unknown source seeks to damage Ezra and Chris's burgeoning relationship by exposing it to the other members of the Team and the outside world.

Written with the Body ~ Ezra/Buck (Old West)
An unexpected revelation leads to an exploration of sensuality and love between Ezra and Buck.

Dancing on the Moon ~ Ezra/Nathan (ATF)
An undercover assignment gone wrong takes Ezra and Nathan on a dangerous night-ride back to Denver, even as they dance around the pitfalls in their own relationship.

A Match to Tinder ~ Ezra/Chris (Old West)
An old acquaintance and a trip to Provenance in pursuit of a murderer provide an unwelcome catalyst for change between Ezra and Chris.

Reyna Angelica ~ Ezra/ Buck (Old West)
One girl's murder forever changes the dynamics of the Seven, even as it leads Ezra and Buck closer together.

Email feedback for Stories: ezrawey@innernet.net